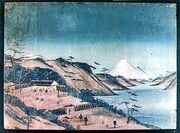 Japan is a large island nation located in East Asia and the only regular location Gulliver visits during his travels.
Weary of his disappointing time in Luggnagg, Gulliver is finally able to secure passage on a boat bound for Japan. His stay in the island country is brief, however, as he finds himself in trouble once again. It seems the custom for Dutchmen in Japan is to trample the crucifix, and none have ever refused to do so. The Japanese emperor excuses Gulliver from this tradition, but later, a Dutchman again tries to force Gulliver into trampling the cross, a sacrilegious act in his eyes. Gulliver flees Japan on a ship called the Amboyna, bound for Amsterdam, and there he boards a ship for England, finally returning home to his wife and family in Redriff.
Ad blocker interference detected!
Wikia is a free-to-use site that makes money from advertising. We have a modified experience for viewers using ad blockers

Wikia is not accessible if you've made further modifications. Remove the custom ad blocker rule(s) and the page will load as expected.