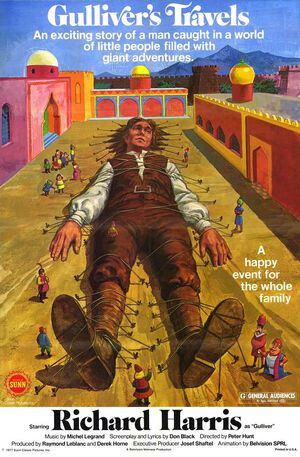 Gulliver's Travels is a 1977 film based on the novel of the same name by Jonathan Swift. It was made partly in live action and partly animated, and starred Richard Harris in the title role.
The opening sequence in live action shows Gulliver announcing his intention to go to sea as a ship's surgeon, followed by scenes of a shipwreck. The remainder of the film has Harris on Lilliput and Ble fuscu, with the tiny inhabitants created by animation.
At the very end of the film, having escaped by boat from Liliput, Gulliver encounters one of the giant inhabitants of Brobdingnag but there is nothing more about his adventures there or in the other lands mentioned in the novel.
Ad blocker interference detected!
Wikia is a free-to-use site that makes money from advertising. We have a modified experience for viewers using ad blockers

Wikia is not accessible if you've made further modifications. Remove the custom ad blocker rule(s) and the page will load as expected.